Any links in this post are going to lead to an 18+ site, so please do not use them if you are under 18 and also use common sense if reading at work or in a family environment. The post is safe for work and family, links are 18+.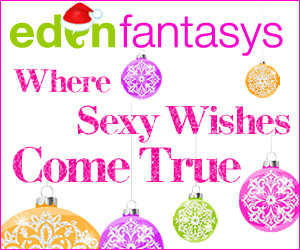 EdenFantasys.com
has a TON of sweet deals going on now, so if you are looking to get some last-minute gifts or something to reward yourself for the awesome job you've done all year you're in luck! Free 3-5 day shipping on all orders above $25, free second-day shipping on orders above $80, and free same-day shipping on orders above $100 are all available.
Want something that isn't on-sale? There are also codes to get some awesome discounts before you check out! So, pretty much, everything is on sale at EdenFantasys!
-
Save 70% on select toys
There are so many more I can't list them all!
And DON'T FORGET -- You get a FREE gift with EVERY purchase!! So do not forget to check it out. I personally have my eyes set on some Venus Body Scrub.
So don't wait too long to check out some amazing promotions, whether it's for someone else or yourself!