Site does contain items that may not be suitable for a work or family environment. Please use common sense and discretion when clicking on these links. +18.
So, I love
EdenFantasys
, and Eden Loves Bloggers! It works out, right? To those that don't know, EdenFantasys is an adult online community and store that carries a wide variety of items, including adult toys, but it is not limited to the +18 stuff. There is a forum, clubs of many kinds (I joined the Arts and Crafts Club!), articles, and more!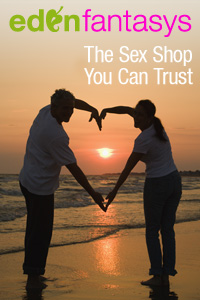 Back to
Eden Loves Bloggers
. It is true! There are many opportunities for bloggers to work with EdenFantasys, and there is a niche for every kind of blogger. You can be a Reviewer, Affiliate, you can post sponsored posts, or advertise on your blog with banners. It's really easy, and there is compensation for whatever one you find suits your fancy. So if you do not feel comfortable reviewing adult novelties, there are other options with equally sweet rewards. Eden has clubs to write about, promotions that need to be publicized, articles that need commentary, and so much more! Sounds awesome, right?
There is also an
Eden Bloggers Club
where you can meet with others who are blogging about EdenFantasys. Eden really does love the blogging community! Just make sure "your blog is at least three months old and updated regularly" (straight from the site) if you are interested in blogging. If it isn't quite old enough, or you still aren't sure, give the community a test run until you are ready. You won't regret it!
So if you're a blogger, I don't know why you're even still reading this and NOT finding out what you can do with
EdenFantasys.
If you are not a blogger, definitely check out the Eden Community at EdenFantasys.com and see what you might like. If adult novelty isn't quite your thing, there are always
bath and beauty items
;)

This post was sponsored by EdenFantasys.com